Skip Navigation
Website Accessibility
Smocking: Basic Smocking Class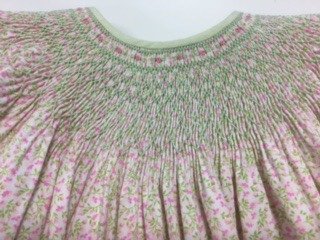 Class meets in 3 different sessions to allow you to work on what you have learned in each class session.

Have you always wanted to learn the art of smocking? Or do you need to brush up on your smocking skills? Come join us! We will have you smocking like a professional after a 3-session class. All you need to bring is a pair of embroidery scissors all other items needed for the class will be supplied.
Class Policies
Classes are filled on a first-come, first-served basis.

Class fee does not include supplies unless otherwise noted.

Fabric and patterns for classes are to be purchased from The Sewing Room. Supplies required for classes will be discounted 10% (please ensure we know your purchases are for a class).

If you need to cancel a class, please notify us as soon as possible. You will receive a store credit for your class fee.
Skill Details:
All Skill Levels
Requirements:
Bring scissors.
Instructor Name:
Susan Neel
Smocking: Basic Smocking Class